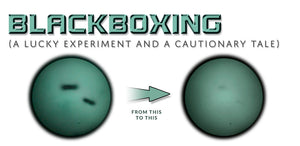 Tube blemishes and Blackboxing
DISCLAIMER: THIS IS NOT ADVICE. THIS IS NOT A HOW TO. THIS IS SIMPLY ME DOCUMENTING A PROCESS TO TRY TO REPAIR DAMAGE DONE TO A NIGHT VISION DEVICE'S TUBES. I AM NOT A NIGHT VISION TECHNICIAN NOR A SUBJECT MATTER EXPERT. ANY DAMAGE YOU DO TO A DEVICE IS SOLELY ON YOU. I REPEAT, THIS IS NOT ADVICE.
This article is built around a couple Nocorium™ Instagram posts I made some time ago regarding an attempt to repair some damaged tubes in one of my loaner NV setups. The process isn't new and it is in fact a technique many have used to varying degrees of success. While not "wrap" related it seemed pertinent to Night Vision users and it was something I wanted to share my experiences with and thoughts on in the hopes it'll help others.
Backstory ... aka "Mistakes were made."
I occasionally host night shoots and at one particular event, I loaned a couple friends my spare Gen3 binos. I briefed both regarding general NV usage & what to do, what not to do. One friend had zero experience with NV, he had to leave early & he neglected to turn off the device (my 1st mistake was not reminding him to turn it off). By the time I was packing up for the night, unknown to me, the tubes were exposed for a few hours to a bright light source (I'm guessing SUV headlights). My 2nd mistake was not checking the tubes, as well as forgetting to see if the device was indeed turned off. I just assumed they were. My 3rd mistake was being in such a rush I didn't take the battery out. I packed the device into a light sealed case and headed home. Pulling all the gear out the next day, I checked the devices and, to my horror, the Green Phosphor thin filmed RNVGs had two huge tube blemishes across both tubes:
* An important technical note: some cosmetic tube imperfections, termed factory black spots and peppering, are a common part of the manufacturing process and will vary in terms of density, shape and size. Black spots are NOT the same as BLEMISHES. "Blemishes" are cosmetic marks introduced to the NV tube that have occurred after the manufacturing process. Blemishes are produced as a result of external/user induced damage to the tube. Common instances of this is when a bright light (such as lights and/or lasers) is projected into the NV tube, essentially burning/scarring the tube. Dropping the NV device is a less common way to damage the device but may result in cosmetic damage to the tube including introducing light emission points (extremely bright pixels).
I'm sure many of you could imagine how shocking this was to see. Once I got over my initial horror, I knew time was of the essence.
Time for a Hail Mary solution: Blackboxing is a process in which you turn the NV device on, (with the on board illuminator (if one is present) set to off), and place the NV device in a light sealed box/container. Preferably leaving it in a zero light room or closet/safe. Bright light induced tube blemishes can result in permanent scarring. Sometimes, you get lucky and the tubes are only temporarily damaged (I guess you could say "bruised"), however, to reverse the damage you need to encourage the tube to repair/reset itself. The concept behind this process is that placing the device turned on in a light sealed box, the tube's micro channel plate will slowly repair itself. It doesn't always work and there is some debate as to whether or not the amount of time that has passed since the damage occurred has any bearing on the efficacy of the blackboxing process. All I knew was that I needed to get started ASAP.
What you see in the following pics are the results of a one week black boxing cycle:
As you can see, I got incredibly lucky. While it didn't 100% repair all the blemish damage done to the tubes, it went from being horrendous to barely noticeable under normal usage conditions. Check out how the left and right tubes now look. The areas circled in red are to highlight the remnants of the blemishes ... but thankfully they are now very faint:

Testing notes:
• Multiple battery draining cycles were conducted. Batteries were replaced when I noticed they were completely depleted (around 30+/- hours for each battery).
• Timelines noted in the pics are approximate.
• Tubes are green phosphor thin filmed tubes. They appear like white phosphor tubes in the pics because they have the LowLightInnovations WP simulated filters on them. To be honest I was too horrified at the onset to remember to take photos with the filters removed.
• The IR illuminator was only turned on for photos between Blackboxing cycles. It was off during the Blackboxing process.
• It's worth noting that by the time I initially noticed the damage it had already been blackboxed for 12 hours as it was obviously still on in it's pelican case. So the first image was probably an improvement over the initial damage done.
• The cosmetic improvement seemed to plateau around day 4. Very minor change was seen from day 4 to day 7.

Final thoughts:
• Blackboxing doesn't always work. But if you decide to do it, you got to commit to the process and consider doing it for multiple days, not just a few hours. If after a few days you see negligible improvement, then sadly yes, your tubes are probably permanently damaged.

• Take your batteries out when storing the NV device. Battery corrosion is a  very real concern. Burning the NV tubes from accidentally leaving the device on should be as much, or perhaps more of a concern.
---