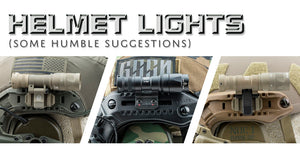 Helmet Light Suggestions
It is important to note that the following article does not cover *every* helmet light option out there and there are a few other excellent setups not mentioned herein. This article is built around a couple Nocorium™ Instagram posts I made some time ago. While not "wrap" related it seemed pertinent to Night Vision users and it was something I wanted to share my thoughts on in the hopes it'll help others.
Backstory: I have long used PrincetonTec MPLS LED helmet lights (the red/white combo variant) for simple admin work, and while they are low power they can still be great for doing things that won't blow out the low light sensitivity of your eyes. However, more and more I noticed situations where I simply needed more light. Situations such as checking to see if people are down range, taping targets or creating interior umbrella lighting so as to not blind your buddies.
My current go-to setup ... Surefire Mini Scout Light Pro + Thyrm VariArc:
Enter the Surefire M340 Mini Scout Light Pro* and the Thyrm VariArc: The Surefire M340 series has a built-in axial adjustable mount allowing you to roll the body of the light as close to the helmet surface as you need. The Thyrm VariArc Mount has a picatinny interface and allows for 360° rotation perpendicular to the helmet rail. When combined this setup allows you to have the light pointed straight ahead for eyeline observation, or rotated straight up for umbrella lighting while doing admin work indoors, or pointed at a downward angle for near focus admin work.


This setup is a killer combo that isn't crazy expensive, it's super low profile, locks via detent every 45° ... essentially does everything I ask of it. It's the helmet light I never knew I wanted but truly needed. (It's important to note I still have a PrincetonTec MPLS LED light on the opposite side of the helmet for administrative situations where I need much less light.)
* The main difference between the Surefire M340C and M340V (aside from a sizeable price disparity) is that the M340C variant is white light only (500 lumens), whereas the M340V has both white light and Infrared light settings (visible: 250 lumens, infrared: 100 milliWatts / 860 nm respectively).
Also worth considering ... repurposing old Surefire Mini Scout Lights:
As technology improves and with the advent of better long gun lights, you may find yourself with an old Surefire Mini Scout light collecting dust in a gear box. Well, just so happens you can give that light a second life ... as a helmet light! One easy option is mounting it directly to the Thyrm Variarc using the original thumbscrew Surefire OEM hardware (which should have been included with the light). That said, 
personally
I prefer to mount the light as close to the dome of the helmet shell as possible. That's easily accomplished thanks to various aftermarket offset Scout light mounts available on the market. In the following example, I'm using an
Arisaka Picatinny 45° Offset Scout Mount
.
While not quite as adjustable as the M340 Pro series, this setup still gets the light rolled inboard and pretty close to the helmet's shell while allowing you to not have to splurge on an entirely new helmet light (assuming you already had a spare serviceable Mini Scout light you were no longer using for other purposes). The following pics will show you how this setup compares to the M340 + Variarc combo:

MTek Flux Helmet Owners!:
Occasionally I'll hear MTek Flux helmet owners lament about limited helmet light mounting options. While the following solution doesn't really "fix" the current lack of Thyrm VariArc type rotational mounts available for MLok rails, but it's how I've mounted a spare mini scout light I had on my loaner MTek Flux helmet. The end result doesn't add much weight, and gets the light body very close to the rail+helmet resulting in a decent low profile lighting solution. I used a Centurion Arms Polymer CMR light mount whose hardware I replaced with actual MLok nuts and screws.
It doesn't have to be this mount. You can probably get similar results with other offset MLok Scout mounts (YMMV).
Obviously you could also get similar results directly mounting a M340 Mini Scout Light Pro with the included M-Lok mount. 
Velcro Light Mounts:
Sometimes helmets have limited available rail real estate for mounting lights. A common example of this scenario is when you're running ear protection that mounts to the upper rails via 3M Peltor ARC Rail Mounts or Unity Tactical MARKs (Modular Attach Rail Kit). Thyrm VariArcs as seen in prior examples in this article won't work with these setups as the ear pro mounts are situated where the VariArc would go. A viable option definitely worth considering is the EchoArms series of velcro mounts.
EchoArms sells a M-Lok compatible velcro backed polymer plate. These are available in a few configurations ranging from just the plate itself, to the plate + a picatinny rail, or the plate with a low profile single CR123 cell light body compatible with Surefire Mini Scout Light components.
• The
Fast Attach Plate + Low Profile Light Body
is an elegantly simple solution. It allows you to mount a light with minimal hardware relatively inexpensively. All that you need to add is any compatible single CR123 Surefire Mini Scout/E-Series Light Heads, and a Surefire compatible clicky tail cap:
• Another combo that I'm excited about is combining the EchoArms Fast Attach Plate with the Surefire Mini Scout Pro using the Pro's included M-Lok attachment. This allowed me to mount the light extremely flush to the shell of the helmet, significantly reducing the light's snag hazard potential:
This combination of Mini Scout Pro + Fast Attach Plate gets the light closer to the wearer's eyeline, it's overall extremely low profile and still allows you to swing the ear pro out of the way.
The
Echo Arms Fast Attach Plates
are just an all around great solution that allows you to still securely mount a decent light to your helmet utilizing the velcro loop present on modern helmets.
---